ASTRONOMER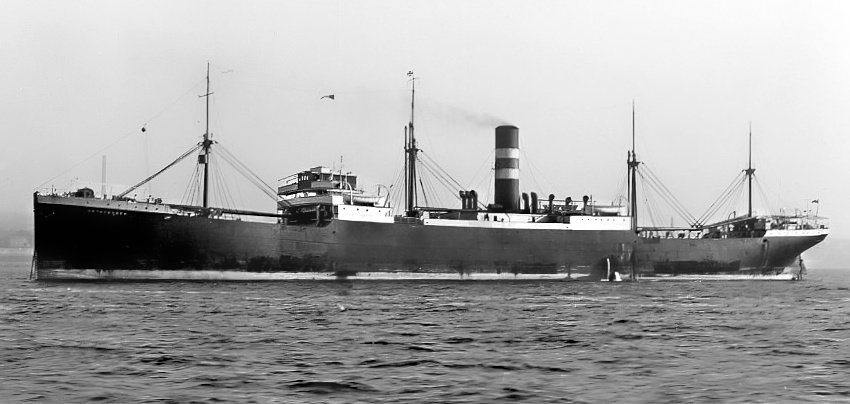 2 June 1940 58 01.818N 02 02.735W 56 in 67 meters
---
Built: 1917 by D & W Henderson & Co Ltd, Glasgow
Construction: steel, 8401 grt, length 482.7 ft (147.1m), beam 58.2 ft (17.7m), draught 33.2 ft (10.1m)
Propulsion: quadruple expansion 696 NHP, 2 double & 1 single boiler, 18 furnaces, machinery by D & W Henderson & Co Ltd, Glasgow
Registered: Liverpool, UK

Built for the Charente Steam Shipping Co Ltd of Liverpool and managed by T & J Harrison Ltd, the Astronomer was hired as a boom carrier by the Admiralty in 1939. In addition to her normal crew of 51, she was manned for the hostilities by 52 Royal Navy officers and ratings plus one Marine gunner.

Under command of Captain John James Egerton, the Astronomer had loaded 3,000 tons of naval stores at Rosyth, and was under way across the Moray Firth headed for Scapa Flow on the 1st of June 1940. At 23:48 when 3o miles SE of Wick she was struck in the stern by a single torpedo fired by U-58 (Herbert Kuppisch). The Astronomer was disabled but not sinking, however at 03:18 and 04:42 on the following morning, U-58 fired a further two torpedoes and the Astronomer finally sank at 05:45 with the loss of five of her naval compliment. The remaining 101 crew, naval officers & ratings and the marine gunner were rescued by two Admiralty trawlers, HMT Stoke City and HMT Leicester City.

In 2006 we were fortunate to be given an Olex printout with the Astronomer location, but for one reason or another didn't get round to making the 72 mile round-trip from Peterhead to the wreck until July 2009, and then again in June 2011. The Olex location was spot-on and after only a few minutes sounding the area we were able to drop the shot on the bridge.

The Astronomer lies in 67 meters at 58 01.818N 02 02.735W orientated 015/195 degrees with the bow to the north at 58 01.846N 02 02.722W and stern to the south at 58 01.769N 02 02.740W. She lies upright and intact with a slight list to starboard. The highest point of the wreck is the midships bridge area which rises to 9 meters above seabed level. The wreck was positively identified by table-ware found in the bridge area which was printed with the Charente SS Co Ltd crest.


Jims recollection on diving the Astronomer 5th July 2009

Vis looked incredible from the surface, a pod of dolphins playing in crystal clear, blue water. However as we descended the vertical shot line we hit a cloud of plankton. Not green as we are used to but a grey-white. This dropped visibility down but it was still a good ten metres. I could see Mike zepping away from me below into the depths, light was great and despite the plankton I could see a long way. I caught up with Mike as he fixed the strobe to the line at about 60m. I could make out the shape of the wreck below and descended to some wooden decking. I soon realised that we were on the bridge area. The top two floors have gone - probably wooden - there was crockery all around and many portholes and small brass items. Also a big drop at the front of the bridge down to the forward deck below. I picked up a couple of plates with Charente SS Co Ltd crests on them, caught up with Mike and gunned the zepps for a trip to the stern.

Just behind the bridge area there are a few lifeboat davits and some other structures then a massive single boiler (I only counted the one) lying in place with the decking above gone. All around, there were huge one-meter diameter port-holes, loads of them. I don't remember seeing her engines but we soon came to her holds, filled with defence boom gear, with her masts lying on top of them. Beyond this some huge winch gear and more boom equipment. Her hull has collapsed inwards in many places and sank down. She still looks very much the shape of a graceful old ship, but one that has been slightly flattened in a mangle. She is nearly 500 feet long and we had been zepping at full speed for a good 5 minutes. I decided to head back before getting all the way to the stern. My zepp battery has been damaged and I was getting nervous about it flattening and having to swim back all that way. Pity as I guess we were nearly there. A long zepp back to the bridge area, on the way, a huge seal swam about five meters in front of me, having a good look as it went by, I thought of Ewan and how he would have handled that! On and down to the forward deck for a look, Mike continued on and got to the bow, intact but listing to starboard. Then back up to the bridge and easily found the shot at minute 24 and began the ascent with 60 minutes of stops to go.

A great dive. She reminds me of the Malin Head wrecks, obviously sank intact but nearly 70 years of storms has shaken her to pieces and she has collapsed in situ, some of her hull falling outward and some inwards. Like the Justicia, she looks like a ship that has been zipped open up the middle with everything laid out to see. She is definitely in my top 5 wrecks off the NE coast (Remuera, Flotta, Charles Goodanew & Mercator) and I can't wait to get back to her. We have had to wait three years for the right weather to dive her; I really hope we don't have to wait that long again.
---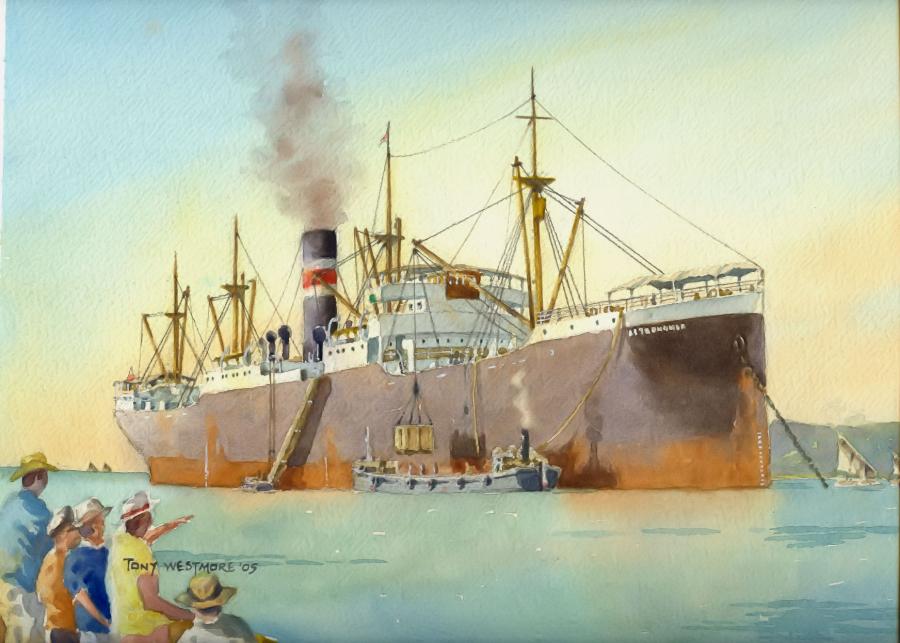 ---
---
---
echo sounder map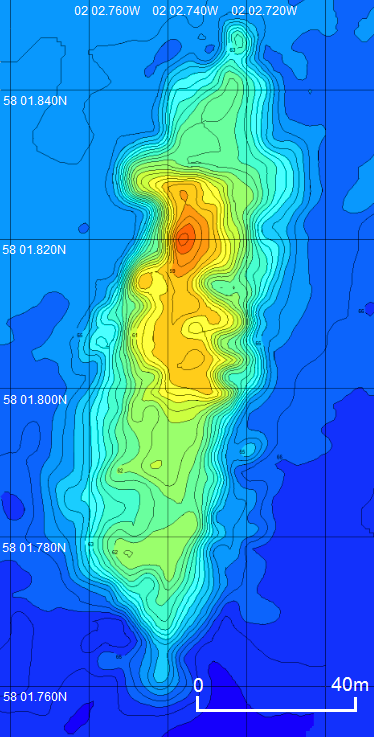 ---
3D echo-sounder map
---
side-scan sonar image - bow is at the top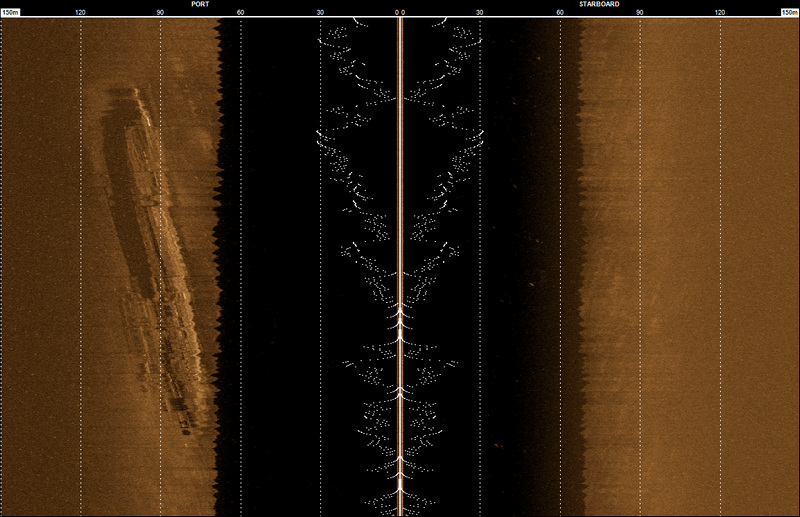 ---
video - Astronomer dive June 2011
---
Astronomer capacity plan