BRETAGNE
17 April 1917 57 41.493N 01 43.365W 57 in 61 metres
---
Built: 1912 by Bergens Mekaniske Verksteder A/S, Bergen, Norway
Construction: steel, 1100 grt, length 226.2 ft (68.9m), beam 36.6 ft (11.1m), draught 15.9 ft (4.8m)
Propulsion: 116 NHP triple expansion, one boiler
Registered: Copenhagen, Denmark

The Bretagne was built for Det Dansk-Franske Dampskibssel Skab (Danish-French Steamship Company) of Esbjerg.

In April 1917 whist under the command of Captain E. Vilandt, the Bretagne was in convoy from North Shields to Copenhagen with a cargo of 1503 tons of coal. On the 17th when eight miles north-east of Rattray Head, a torpedo was observed crossing the bow of the ship and immediately after, a submarine was seen to starboard. The Bretagne attempted to run for land but was forced to heave-to after it was shelled by the submarine, which was UC-45 (Hubert Aust). The crew took to the lifeboats just before UC-45 fired a second torpedo which this time struck the ship. The Bretagne sank within a few minutes and UC-45 disappeared. All the crew were rescued by accompanying British naval vessels and taken to Aberdeen and Peterhead.

In May 2012 when searching for the Malmland, we found a wreck by echo-sounder near an obstruction reported by the steam trawler Viking Deeps in 1956. The wreck was dived and found to be and old, likely WWI vintage steamship which had a single boiler and a cargo of coal, 3D echo-sounder mapping showed that the wreck was about 70 metres long. From the location, size and description of the wreck, it was evident that it could only be the Bretagne.

The Bretagne lies at a depth of 61 metres orientated 130/310 degrees with the bow to the north-west. She has degraded extensively over the years and the hull plates and ribs have fallen out onto the seabed, with the deck now collapsed down onto the keel. The highest point, around midships, only rises about five metres from the seabed, the bow is intact but the focsle deck is now angled upwards.

We are indebted to the Maritime Museum of Denmark for supplying details from the inquiry held in Copenhagen into the sinking of the Bretagne, and the photograph of the ship.
---
WW1 type UCII mine-laying U-boat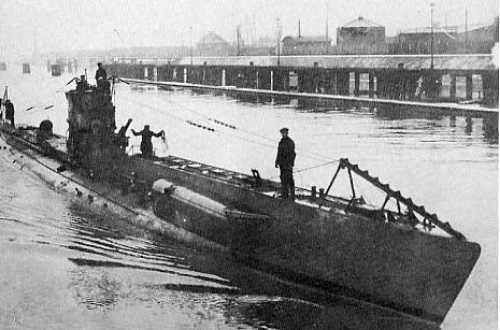 ---
echo-sounder chart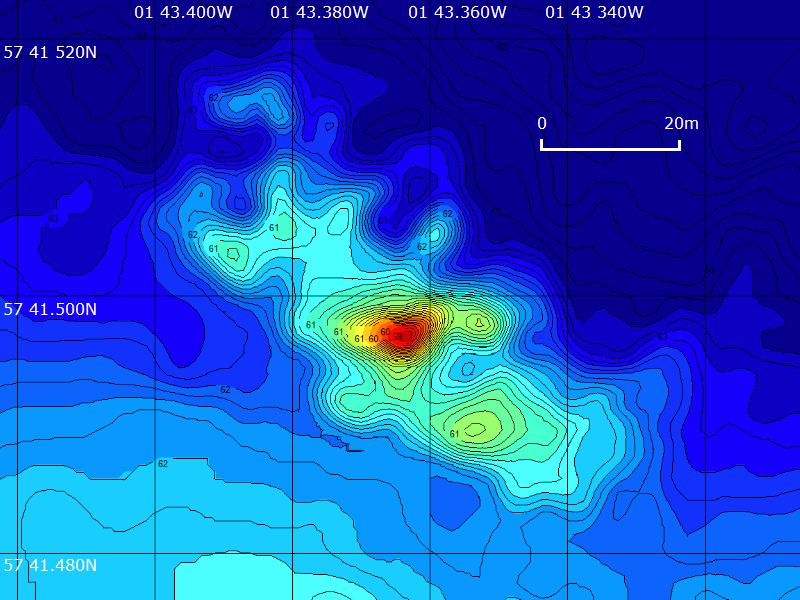 ---
3d echo-sounder chart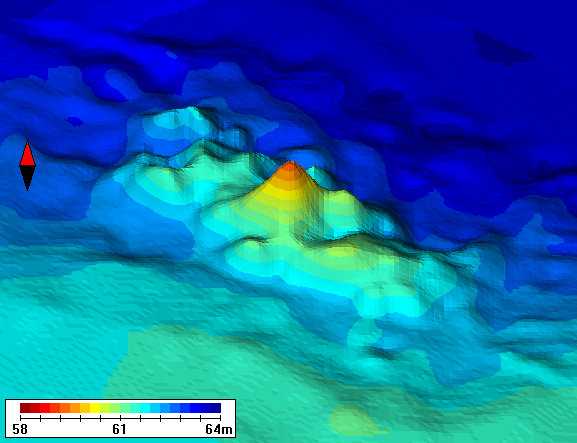 ---
Bretagne dive video 26 May 2012