ETHEL GWENDOLINE
21 March 1890 57 43.520N 01 45.840W 53 in 56 metres
---
Built: 1883 by Uskside Shipbuilding Co Ltd, Newport
Construction: iron, 252 grt, length 121.1 ft (36.6m), beam 22 ft (6.7m), draught 10.53 ft (3.17m)
Propulsion: 2 cylinder compound 50 NHP, 1 boiler, machinery aft by Sheryn & Lawrie, Newport
Registered: Cardiff, UK

At the time of her loss, the Ethel Gwendoline was owned by R Taylor of Dundee.

In March 1890 under command of Captain J Mills, she had loaded coal and general cargo at Sunderland and was making for Inverness when she foundered off Cairnbulg during a south-easterly gale on the 21st. The captain and six her crew were lost, three survivors were found clinging to an upturned small-boat and rescued by the North Shields steam trawler Prince Consort.

We found the wreck by echo-sounder search and dived it on the 24th April 2011. The Ethel Gwendoline lies at 57 43.520N 01 45.840W in 56 metres, orientated 060/240 degrees with the bow to the southwest. It is approximately 40 metres in length with a single hold and machinery aft.

Highly degraded and buried in sand, the highest point is the bow which rises only 3 metres then hold which has collapsed and is almost level with the seabed. Some plates and superstructure off to the port side and the rudder protrudes from the sand on the starboard side.

Although nothing was found to positively identify the wreck, from her location, description and examination of ships both lost and found in the area, it is almost certain that the wreck is that of the Ethel Gwendoline.

---
---
Echo-sounder chart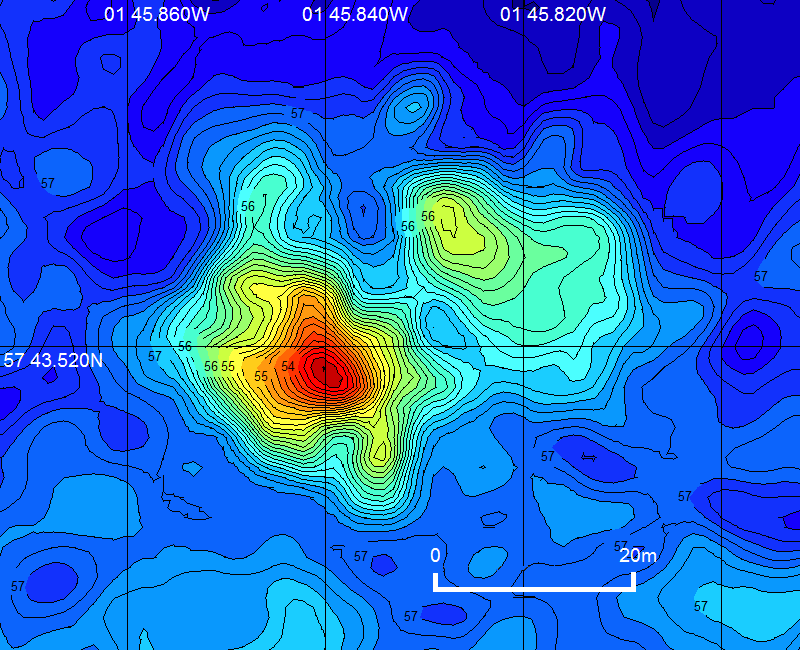 ---
3D echo-sounder chart
---
ETHEL GWENDOLINE

CREW LOST

J. Mills, Captain, Sunderland
George Cassie, Chief Officer, Macduff
John Purvis, Chief Engineer, Sunderland
Issac, Cook, Sunderland
William Murray, Fireman, Dundee
James McLean, Fireman, Dundee
Unknown, Ordinary Seaman, Sunderland