HIT OR MISS
2 December 1900 57 31.079N 01 44.658W 42 in 44 metres
---
Built: 1896 by William Wolfe, Hakin, Milford Haven
Construction: iron, 20 grt fishing vessel, length 51.6 ft (15.7m), beam 14 ft (4.3m), draught 7.5 ft (2.3m)
Propulsion: triple expansion, one boiler, twin-screw
Registered: Aberdeen, UK, Fishing Registry A328

Built for William Wolfe and registered at Milford M120, in 1899 she was sold to Peter Pelsen of Hull and re-registered in Aberdeen A328.

Under command of her owner, Peter Pelson of Hull, the Hit or Miss had been fishing in the Moray Firth and was making for Aberdeen when the man-hole packing on the boiler failed, filling the engine-room with steam. Fearing an explosion, the crew took to the small-boat and stood-off for half an hour until the steam subsided, they then re-boarded and attempted to repair the boiler and make steam. By this time she was off Peterhead and despite setting an anchor, the vessel drifted onto Skerry Rock and started taking on water. With the turn of the tide the Hit or Miss then drifted towards Rattray Head before the engine was re-started and she made for Peterhead. At 5am on the 2nd December she reached a point about 1.5 miles off the North Head when her engine failed due to lack of steam as the furnace had flooded, and another anchor was set. A Peterhead yawl skippered by Alex Youngson saw that the vessel was in distress and took off the crew shortly before the Hit or Miss foundered. The Peterhead harbour tug Flying Scud then took the yawl in tow and brought it back into Peterhead.

Although the steam trawler at this site is unconfirmed as being the Hit or Miss, the name is apt for how the wreck was found, and what might just be nearby!

Whenever travelling to or from dive sites, we usually try and take slightly different routes each time and keep an eye on the echo-sounder just in case we pass over something interesting. In May 2010 on the way home from the Rattray area when 1.5 miles off Peterhead we noticed a blip on the sounder & stopped to investigate - a few small peaks in 45 metres, we plotted them on the GPS and carried on home.

In May 2011 we investigated once more and the side-scan image was enough to warrant a dive - it turned out to be a small steam trawler.

The wreck lies in 44 metres at 57 31.079N 01 44.685W orientated 120/210 degrees, upright and intact with superstructure gone. It became known as the 'Crab Wreck' (for obvious reasons) until we narrowed it down to the Hit or Miss.

However the story doesn't end there. Out of curiosity we examined the site in more detail with both echo-sounder and side-scan sonar, and unlikely as it sounds, there may in fact be three small wrecks in a direct line. The Hit or Miss is the middle mark, only 40 metres north is another possible wreck at 57 31.102N 01 44.659W and the other possible, bigger than the Hit or Miss, is to the south at 57 31.055N 01 44.658W.

---
We have now dived the area and in a single dive, navigated to explore all three marks.

We dived the group at the end of our extremely successful 10 day break to explore the new NE shipwreck marks in August 2012. We had been making many consecutive deep dives and felt we needed to do something shallower to avoid the potential of retained nitrogen and an unearned bend. Investigating the potential three wrecks of the "Hit or Miss" group seemed ideal.

Our plan was simple, we would be dropped on the south-most mark at the end of the ebb tide when the tide would be running gently north. We would navigate on the 45m seabed north to the middle mark then on to north-most mark , aided by the gentle tide, we'd then enjoy slack water to explore, eventually catching the start of the flood tide to drift us back south to the shot line.

Rog navigated the Buchan Elle in over the first small mark and, on his call, we dropped our shot weight over the stern. We use a 50kg link from an oil rig mooring chain. It is streamlined so drops vertically and is heavy enough to stay put when we descend down the line of SeaSteel rope attached to it. Mike has welded a stainless steel eye into the link so that we can quickly and easily change the attached shot ropes, we use an 85m line for dives up to 70m and a 120m line for anything deeper. We have a great rigging system of fisherman's buoys, a 1.4m dhan buoy and climbing ascenders to effortlessly retrieve the shot when we have finished diving. It almost always works!

Mike and I descended the shot line to find that the huge chain link had hit the top of an upturned ships boiler, and was sitting in a small recess in the top. The shotting equivalent of bullseye!

No sign of any other wreckage, just a single boiler up on end on a silty/shale seabed, about 2.5m long and a diameter of around 2m. We circumnavigated the boiler a couple of times looking for anything interesting – but nothing. Very strange, we wonder if the boiler had been dumped rather than being the remains of a wreck on the seabed. Mike took a bearing with his trusty hand-held Suunto compass and we set off north, trailing a 120m line from his caving reel.

We finned out over the seabed, it was almost slack water but the residual tide running north made things slightly easier for us as we had planned. About 10 meters from the boiler we came across a large winch with large amounts of netting and old fishing gear tangled in. The winch doesn't look like it is related in any way to the boiler. This is probably a snag area where old tangled and broken gear was dumped by the boats on the way back into Peterhead harbour. It's possible to see the snag rise slightly on the Dr Depth 3D chart.

We continued to fin northwards, trailing out the thin line behind us. The seabed was flat and mainly shale with a good layer of silt covering it. There were plenty of velvet swimming crabs, bright orange and blue squat lobsters, flatties and starfish to interest us so the swim was far from tedious. Here and there we came across huge granite boulders sitting on the shale, covered in anemones and soft corrals with normally a crab sitting atop. These boulders were probably deposited 10,000 years ago by retreating icebergs as they melted and dropped the rocks that they had picked up from land even more aeons ago.

We swam for a good 10 minutes, well beyond the 40m distance we estimated the first mark would be, so we had clearly missed it. When I estimated we had travelled about 100m we stopped reeling out and headed in a clockwise direction (I'd estimated we had drifted slightly west of north, so we needed to make a correction to our bearing). Within about 10m, Mike noticed the wreck which was the north most mark. She was an old, local fishing vessel. About 15m long, her bow intact but very little left of her aft of that. The frames of her fish-hold openings sat on the seabed and the remains of an old steam net winch sat where her midships would have been. Some scattered plates and ribs were all that remained of her stern area, with no sign of a boiler, engine or propeller. She looks like she has been there for many years, perhaps turn of the 20th century vintage. I sent up a rock on a lift bag to indicate the position we had achieved to Rog on the surface and we turned to head south.

There was no appreciable tide as we swam southwards, Mike reeling in our line, keeping it tight and direct to the boiler as we went. I positioned myself to Mike's left, at about the limit of visibility (about 7m) so between us we would cover a 20m band on the return journey. Sure enough, after about 5 minutes swim, I came across the unmistakable dark shape looming out of the gloom ahead, we had found the second wreck!

This wreck, the middle of the three marks, is much more intact. Again, a small local fishing vessel, she is lying with a list to starboard, her decking and superstructure has all rotted away leaving just her hull. Her port side has fallen onto the seabed, but her starboard side is largely intact. I swam along this to the propeller boss which is devoid of prop blades, no doubt salvaged long ago, and her rudder. She has small fish hold frame, a small steam engine and boiler. I was amazed at the amount of life on her, a huge shoal of tiny fish glistening in our torch light, large lobsters in every nook and big Parton crabs standing guard on the remains of her keel. A really nice wee wreck with loads to see, we swam around her many times spending a good 10 minutes in the area.

Soon however, our bottom time now at around 30 minutes we felt the inevitable flood tide coming on and we left our third wreck to enjoy the comparably short drift, Mike feverously reeling in the line as the tide accelerated us south. In what felt like no time we were back to the tangled nets around the winch then at the boiler. We stopped briefly to pick the shot out of the gap in the boiler and threw it off onto the seabed – which it missed – being suspended on the huge dhan buoy 45m above us. We raced off the boiler to catch our shot which was accelerating away in the tide, hanging 1m above the, by now, blurring seabed we were travelling so fast. We caught the shot and began to ascend, drifting with the main shot for almost an hour's deco.

A fantastic dive, three wrecks in one dive, a rare (maybe unique) experience and a great plan which came together (almost) perfectly.



---
echo-sounder chart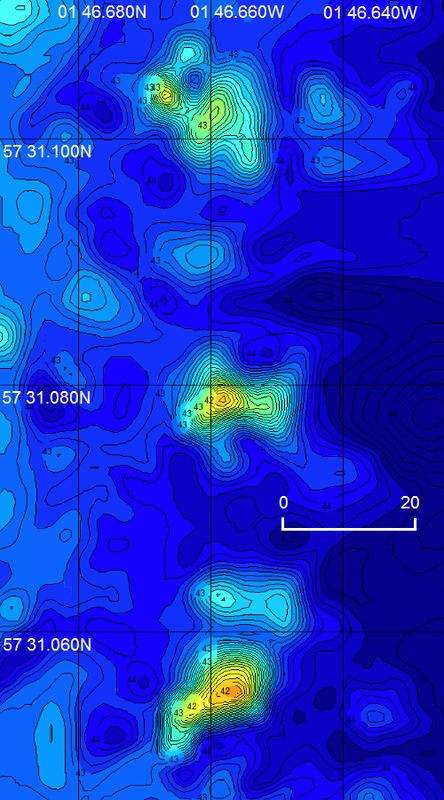 ---
3D echo-sounder chart