LOCHNAGAR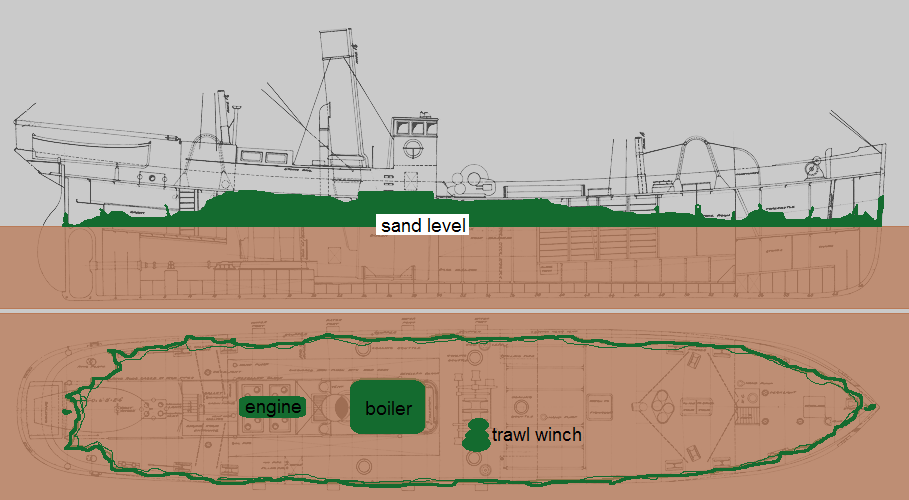 5 January 1909 57 26. 629N 01 39.189W 61 in 63 meters
---
Built: 1900 by A Hall & Co Ltd, Aberdeen, Yard no 382
Construction: steel, 165 grt, length 106 ft (32.3m), beam 21 ft (6.4m), draught 11.2 ft (3.4m)
Propulsion: triple expansion 54 NHP, 0ne boiler
Registered: Aberdeen, UK, Fishing Registry A292

Built for the Loch Line Steam Trawling & Fishing Co Ltd, Aberdeen.

On the 5th January 1909 when off Buchan Ness on her return to Aberdeen, the Lochnagar was in collision with the Wick registered steamer Margaret. The Lochnagar sank and her nine crew were picked up by the Margaret and landed at Aberdeen.

In April 2007 we picked up a small echo sounder trace when heading north-east from the wreck of the Atland, recorded it on the GPS and carried on. In June 2012 we revisited the site and re-found the trace, then on the 1st July 2012 we dived it and discovered the highly degraded remains of a steam trawler. Given its condition, it must be at least WW1 vintage or before. Although nothing was found to positively identify the wreck, an examination of known steam trawler losses in the area, combined with the age & size of the wreck leads us to believe that it is the Lochnagar.

The Lochnagar lies in 63 meters at 57 24.630N 01 39.190W orientated 045/225 degrees with the bow to the north-east and a list of about 15 degrees to port. The highest point is the boiler which rises only 2 mtrs from the seabed, just aft is the top of the triple expansion engine. The wreck is almost entirely buried in sand and what remains above has degraded to the extent that apart from the boiler, engine, winch and winch, only the outline of the vessel can be seen.
---