LORD NELSON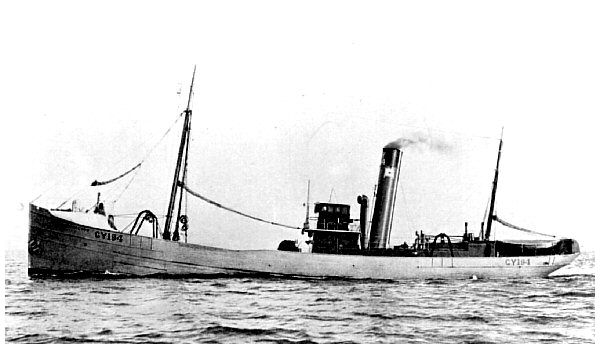 22 November 1940 57 31.583N 01 40.842W 52 in 57 metres
---
Built: 1907 by Smiths Dock Co Ltd, North Shields
Construction: steel, 295 grt, length 132.5 ft (40.4m), beam 22.6 ft (6.8m), draught 12.25 ft (3.7m)
Propulsion: triple expansion, one boiler, machinery by Shields Engineering Co Ltd, South Shields
Registered: Reykjavick, Iceland, Fishing registry RE140

Built for J.E. Rushworth of Grimsby and given Fishing registry GY194, at the time of her loss the Lord Nelson was owned by Marz of Stykkisholmur, Iceland.

On the 22nd November 1940 whilst off Peterhead with skipper Hjalti Jonsson in charge, the Lord Nelson was in collision with the Aberdeen steam trawler Northman (A652) and foundered soon after. All the crew were taken onboard the Northman.

In May 2008 during an echo-sounder search we picked up a trace of a possible small wreck 3 miles ENE of Peterhead, marked it on our GPS and moved on. Then in 2012 further information came to light that a hydrographic survey had located a wreck in the same spot, we revisited the location, found the wreck once more and dived it on the 20th May 2012.

The Lord Nelson lies in 57 metres at 57 31.583N 01 40.842W orientated 100/280 degrees with stern west and bow east. The highest point is the stern which rises to 5 metres above the seabed, nothing remains above deck-level and the focsle has collapsed to seabed level. Although nothing has been found to positively identify the wreck, from her location, dimensions, construction and examination of steam trawlers both lost and found in the area, it is almost certain that the wreck is that of the Lord Nelson.
---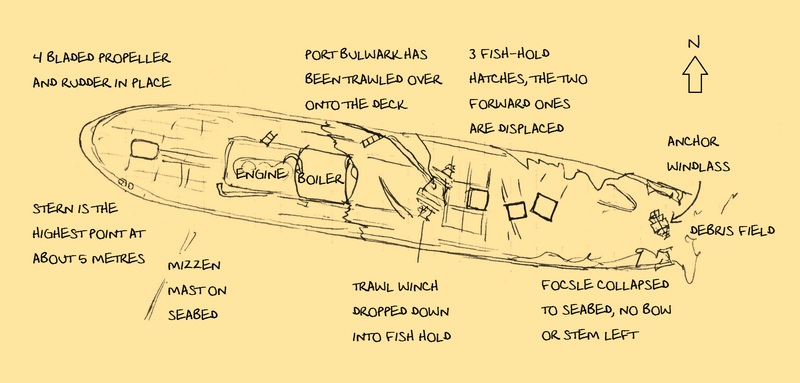 ---
Aberdeen steam trawler Northman which collided with the Lord Nelson