HMT ORMONDE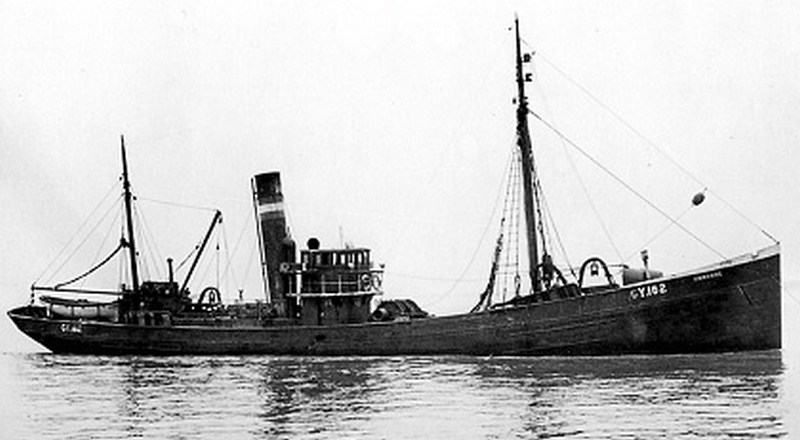 16 February 1941 57 24.668N 01 44.935W 56 in 60 metres
---
Built: 1906 by Cochrane & Sons Ltd, Selby
Construction: steel, 250 grt, length 125 ft (38.1m), beam 22 ft (6.7m), draught 12.4 ft (3.8m)
Propulsion: triple expansion 69 NHP, one boiler, machinery by Amos & Smith Ltd, Hull
Registered: Grimsby, UK, fishing registry GY162

Built for E. Bacon, in 1906 sold to Dolphin Steam Fishing Co Ltd, 1915 to Arctic Steam fishing Co Ltd, 1915 requisitioned by the Admiralty, 1919 returned to owners and re-registered in Grimsby as GY162, 1940 requisitioned by the Admiralty as an armed mine-sweeping trawler FY782 and fitted with a 6-pounder gun. She was based at Aberdeen with M/S Group 69.

On the 16th February 1941 under the command of T/Lt. Philip Hamilton RNVR, HMT Ormonde was patrolling six miles offshore from Cruden Bay when she was attacked and bombed by German aircraft, she sank with the loss of the entire crew. HMT Chrysolite patrolling in the same area was also attacked, but not hit.

The wreck lies 4 miles ESE of Cruden Scares at 57 24.668N 01 44.935W in a depth of 56 metres orientated 090/270. She lies upright and intact on an even keel, however the bridge has collapsed and the deck has rotted through. There is a large break on the starboard side which looks very much like explosion damage and the trawl winch has been displace to the port side.
---
HMT ORMONDE

CREW MISSING, PRESUMED KILLED

Donald Charles Channing, Ordinary Seaman
William Thomson Coull, Skipper, RNR
William Thomas Cummings, Stoker
William Thomas Davies, Ordinary Signalman
Edward Dunne, Ordinary Seaman
Thomas Gregory Dunsmore, Ordinary Seaman
Mark Elks, Seaman
George Robert Fieldsend, Stoker
Robert Matthew Foster, Stoker
Gerard Ignatius Furie, Ordinary Telegraphist
Frederick Grant, Engineman
Philip Francis George Hamilton, Temporary Lieutenant, RNVR
John David McCallum, Leading Seaman
William George McKay, Seaman, RNR
Edwin McUrich, Leading Seaman
Henry Mayhew, Ordinary Seaman
William Murray, Engineman, RNR
Robert Parker, Seaman
Stanley John Sherham Wilson, Ordinary Seaman