REMUERA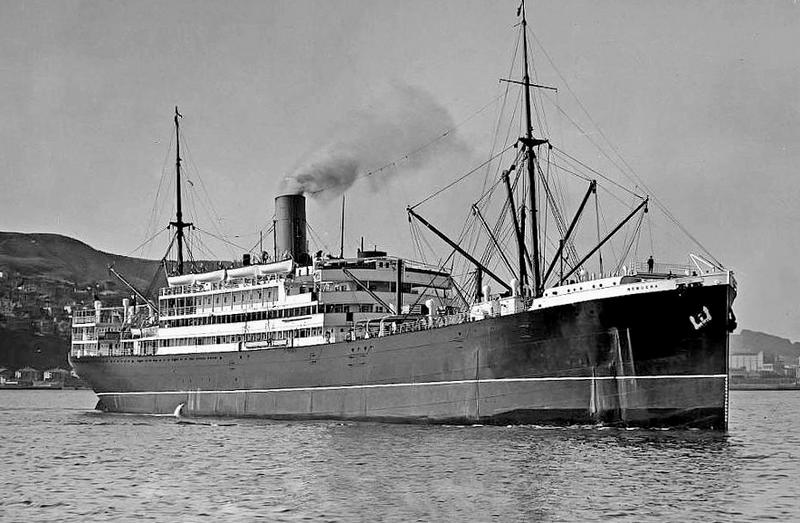 26 August 1940 57 46.973N 01 52.800W 42 in 57 metres
---
Built: 1911 by W Denny & Bros. Ltd, Dumbarton
Construction: steel, 11,445 grt, 8-decked passenger & cargo ship, length 485 ft (147.8m), beam 62.3 ft (19m), draught 41 ft (12.5m)
Propulsion: twin-screw, 2 x 843 NHP triple expansion, oil-fired boilers
Registered: Plymouth, UK

Built for the New Zealand Shipping Co Ltd at a grand cost of £176,102 9s 4d to sail the UK to New Zealand route carrying both passengers and cargo. She could accommodate 60 1st class, 90 2nd class and 130 3rd class passengers plus 7,231 net tons of cargo. In 1921 she was converted from coal to oil fuel and in 1933 the accommodation was altered by adding an additional deck to give 200 single-class passenger capacity.

She has a fascinating history. She ran the mail route between New Zealand and London, via the Panama Canal and she was one of the first ships to traverse the canal when it opened in 1914. She also travelled via Pitcairn Island where the mutineers of the Bounty settled. She became famous as a carrier for immigrants on their way to begin a new life in New Zealand and even saw a riot onboard in 1919 while returning troops to New Zealand from the WWI.

In WWI she entered the service of the British government where she operated her normal route but this time as a troop ship and military supply carrier. She returned to the New Zealand Shipping Company in 1920 where, after her full refit she was returned to passenger service. She continued to operate on her trans-Pacific route until 1939 when she was once again claimed by the British government to act as a troop ship and frozen food carrier.

Having loaded 6,447 tons of cargo, mostly refrigerated beef and lamb carcasses, but no passengers, the Remuera departed Wellington, New Zealand on the 12th July 1940. Under command of Captain F.N. Robinson she passed through the Panama Canal to join convoy BHX65 in Bermuda, which departed on the 11th August to join convoy HX65 at sea (Halifax, Nova Scotia to UK). Of the 51 merchant ships in HX65, seven were sunk in the Atlantic by u-boats. When approaching the North of Scotland on the 25th August, the convoy Commodore's ship Harpalyce was torpedoed by U-124 and the Remuera took over her position.

On the 26th after crossing the Moray Firth, the convoy was subjected to repeated aerial attacks from eight German Ju88 bombers from Aalsborg in Denmark and four He115 aircraft which had flown from Stavanger in Norway. Having already survived one near-miss from bombs dropped by a Ju88, the Remuera was six miles north-east of Fraserburgh when a Heinkel He115 torpedo-bomber approached from 30 degrees off her port bow. The He115 dropped a torpedo which struck the Remuera at the bulkhead between holds 4 and 5 on her port side, this immediately flooded two compartments and the ship started to sink.

The Remuera sank slowly allowing all 94 onboard to abandon ship without loss, she flooded from the damaged after holds and reached a very steep angle before the stern hit the seabed and she then settled gradually and sank.

Marine engineer Lionel Hodgson recollected:

"We just drifted away from the ship and lay there and watched as she slowly went down. She slowly filled up from the stern and the last I saw of her, from the bridge up she was vertical and she just slowly went down. In those days at least, the ship was your home, and I'll never forget the feeling of seeing my home slip beneath the waves."

All of the crew, 93 plus one gunner, were rescued by the Fraserburgh lifeboat and the sloop Egret. Later the same day, the convoy suffered its final loss when the Cape York was bombed and disabled by Ju88 aircraft - she sank the following day 14 miles east of Fraserburgh.

The wreck of the Remuera has been well-known to local fishermen for decades, they call it the 'Roundabout Wreck' as it is used as the northern marker for trawling 'round-about' in a figure-of-eight pattern with the wreck of the Trsat as the southern marker. To our knowledge, the wreck had not been dived until 2000 when Rod Macdonald and Ewan Rowell discovered her while out searching on their RIB. We joined our colleagues from Stonehaven Snorkellers and dived her from Cairnbulg by RIB in June 2000, since then we have made a number of visits to her.

We liked the wreck so much, we bought it. In 2004 a combined group from Buchan Divers and Stonehaven Snorkellers purchased the Remuera from her owners, the Standard Steamship Owners' Mutual War Risk association Ltd. Although we own the Remuera, we have no intent to salvage or raise anything from her. As far as we can ascertain, the Remuera lies on the seabed 6 miles off Fraserburgh untouched, although occasionally visited, since she settled there in 1940.

If you dive the Remuera, we respectfully request that you do not disturb or remove anything from the wreck.

The Remuera lies in 57 metres at 57 46.973N 01 52.800W orientated 100/280 degrees with the bow to the east at 57 46.971N 01 52.742W and the stern to the west at 57 46.977N 01 52.879W. The wreck is lying on her port side, reasonably well intact but with her starboard side collapsed reducing her beam to around 3m. Most of her superstructure has gone but she is still recognisable. The bow is intact, with a massive anchor hanging towards the seabed. Heading aft, her hull is fairly intact but flattened, here and there, massive cracks allow an uninterrupted view of her holds. Her huge fore-mast lies out on the seabed.
---
Diving the Remuera

The Remuera lies in an area of the coast ripped by strong tides and infamous for difficult weather but blessed, normally, with great underwater visibility and loads of marine life. She lies on her port side, her superstructure is missing, and most of her starboard side has collapsed down onto her port side reducing her beam to as little as 3m in places. Her highest point is on her starboard side just above her boilers, here, her keel is intact and the topmost point rises to 48m.

Forward of this, her side has collapsed down leaving a massive open archway facing aft into her boiler room. This is a fantastic open swim through, past the boilers, under the starboard side and through a narrow exit above to come out, above the keel, beside her huge engine rods and pistons. Swimming towards her stern her massive plated side has separated from her keel leaving a huge 10m high wall of steel to swim along – absolutely covered in soft corrals and anemones – the flat starboard side has fallen downwards and now lies only 3m above the seabed in 65m. Under this side are loads of interesting nooks and crannies with huge portholes and square first class lounge windows scattered around. Behind this area she is badly degraded and reaches the sandy seabed before a massive starboard prop shaft appears out of the sand with a huge propeller attached. Just behind remains the solitary blade of the port prop, now mostly buried in the
sand.

Forward of the boiler room is a large crack in her superstructure giving access to her holds. Again, the starboard side has collapsed but generally unbroken giving a fantastic undulating life encrusted seabed. It's a very long swim to the bow which has folded back and lies in line with the ship but on her starboard side. A massive anchor hangs on huge steel chain links. Following the deck back to the boiler area shows her massive mast lying out along the seabed with huge winches strewn around, bollards and other gear.

The great visibility really shows how massive she is, a real treat to dive and needs many trips to her to cover all of her remains. A highly recommended dive.
---
---
---
colour postcards of the Remuera
---
series of CAD representations of the wreck by Tony Ray
---