SIMONBURN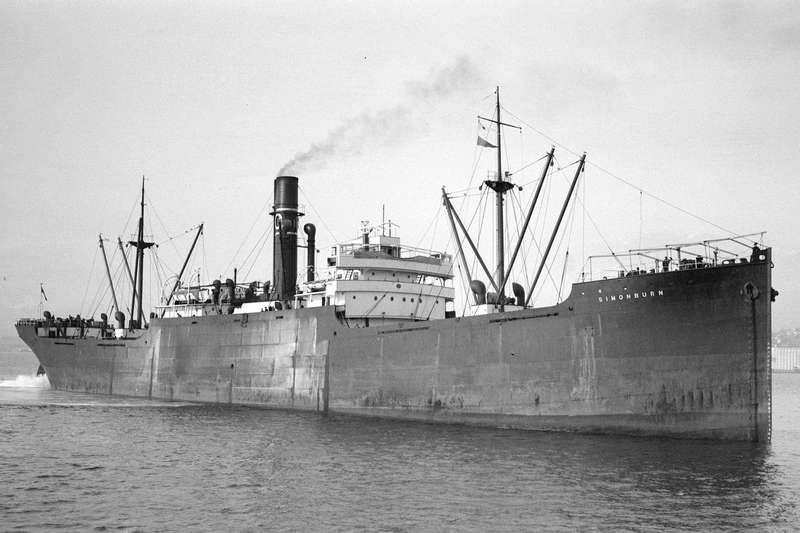 20 October 1940 57 37.109N 01 42.684W 46 in 54 metres
---
Built: 1925 by Short Bros. Ltd, Sunderland
Construction: steel, 5213 grt, length 390 ft (118m), beam 53.5 ft (16.1m), draught 28.6 ft (8.5m)
Propulsion: triple expansion 363 NHP, two boilers each with four furnaces, by J Dickenson & Sons Ltd, Sunderland
Registered: Newcastle, UK

Built for the Northumbrian Shipping Co Ltd and managed by Common Bros. Ltd

After loading a cargo of wheat in Montreal, the Simonburn joined convoy SC6 at Sydney, Cape Breton for the voyage to the West coast of Scotland. She then sailed from Loch Ewe for Methil in coastal convoy WN27. When rounding the Buchan coast in gale force conditions, a number of vessels from the convoy ran aground near Rattray Head - they were the Simonburn, Clumberhall, Baron Minto, Lisbon and Alcora. Only the Clumberhall escaped unscathed, she refloated with the tide and continued her vovage.

Peterhead lifeboat Julia Park Barry of Glasgow was launched at seven in the morning, took off all 30 crew from the Lisbon then 23 from the Simonburn before it had to make for Fraserburgh to land the casualties. The lifeboat made another trip at 11am, this time rescuing the remaining 16 from the Simonburn and 24 from the Baron Minto before returning to Fraserburgh once more at 2:15pm. Yet again she departed for Rattray Head, this time to stand-by the Alcora where all the crew were taken off to shore by LSA. Peterhead lifeboat finally returned to port at 4pm having saved a total of 93 that day.

The Baron Minto, Lisbon and Alcora all remained firmly aground and were eventually broken up or salvaged, however the Simonburn drifted off and foundered 3.5 miles east of Rattray Head.

In March 2004 found we found the wreck by echo-sounder whilst searching an area around the UKHO Wreck Register location for the Malmland and some fishermen's Decca marks. On diving the wreck it was found to be a large 3-island ship with two boilers and empty cargo holds so obviously it could not be the turret-decked Malmland. Although we have found nothing material on the wreck to positively identify her, from the size and construction, two boilers, empty holds and known losses/finds in the area it can only be the Simonburn.

The Simonburn lies in a depth of 52 metres at 57 37.109N 01 42.684W orientated 040/22o degrees with the bow south-west at 57 37.095N 01 42.710W and the stern north-east at 57 37.124N 01 42.661W. The highest point is the midships section which rises to seven metres from the seabed, the ship is intact and upright but extensively degraded.

The Simonburn is in interesting wreck. I'd never been particularly impressed by her, she is highly degraded, and covered in rocks which have been washed up over her by the high seas and strong tides off Rattray Head - so, much of her surface just resembles a rocky seabed. However I was lucky enough to dive her recently in 15m+ vis and suddenly realised what I'd missed - what a fantastic wreck!

Overall, the wreck is collapsed, highly degraded and there is no sign of superstructure. We normally drop our shot midships which is the highest part of the wreck. Forward from this is the bulkhead of the hold, the plates are gone but the ribs rise up about 3m, covered in life. Towards the bow, her hold has collapsed, the hull plates have fallen outward and are lying on the seabed. The surrounding seabed has encroached into her, and the hold resembles a rocky, seaweed covered shale bottom . However about 5m forward, the wreck reappears, a rise of a couple of meters and a couple of huge winches, remains of davits and a mast lying across her. A slight further rise and we come to the focsle. The deck has broken here allowing entry to the chain locker, huge bow bollards and anchor handling gear lie about. Her bow is fantastic, upright, slight list to starboard with scour beneath her showing the complete bow section and keel, here and there plates are
missing allowing views to her internals and the fish that live there.

Travelling sternwards along her starboard side, she rises about 3m clear of the seabed but this height drops until we reach her mid-section where she is almost level with the seabed. Her bulkhead ribs appear out of the gloom, rising like gnarled fingers out of her keel. Behind the bulkhead is a jumble of engine room components, then her two massive boilers rise out of the scrap-heap. These are about 3m in diameter, off to her starboard side, a large donkey boiler is upright, it's casing rusted through in areas allowing a view of it's internal boiler pipework.

Sitting aft of the boilers and between them is her triple expansion engine. It lists slightly to port but is intact, she sits on her huge shafts, allowing a great, unobstructed view if her engineering, covered in tiny jewel anemones she makes a great sight. Behind the engine is the shaft tunnel and a jumble of remains of superstructure. The seabed once again encroaches over her stern hold but her stern is still there, degraded and almost level with the seabed, her huge mooring bollards in place, emergency steering gear and a large admiralty pattern anchor sitting at the very stern. A gorgeous wreck, which it will be a pleasure to return to.


Simonburn video by Jim Burke
---