SOFIE BAKKE

4 August 1940 57 23.596N 01 41.608W 56 in 68 metres
---
Built: 1938 by A/B Gotaverken, Gothenburg, Sweden
Construction: steel, 5450 grt, length 453.2 ft (138.1m), beam 58.8 ft (17.9m), draught 26 ft (7.9m)
Propulsion: 6900 HP 6-cylinder oil engine by DV Gotaverken B&W
Registered: Haugesund, Sweden

The Sofie Bakke was built for Skibs-A/S Hilda Knudsen and managed by Knut Knutsen OAS (a successful Swedish company still plying the oceans today as Knutsen OAS Shipping AS). Whilst under control of the Norwegian Nortraship organisation in July 1940 she loaded 7400 tons of general cargo in Peru and Chile, then joined Convoy HX55 for the crossing to the Clyde and onwards via a coastal convoy to London. During the v0yage around the north of Scotland on the 4th August she collided with another Swedish ship in the same convoy, the M/S Lima, five miles east of Cruden Bay and sank. All 37 of her crew survived, some of them in one of the ship's lifeboats which was subsequently donated to the Peterhead Sea Cadet Corps.

We found the wreck in the summer of 2006 whilst searching for the U-1206, it was obvious from echo-sounder that the remains were far bigger than a submarine, none the less a monster of a new wreck which was dived on the 4th of July and instantly confirmed as the Sofie Bakke by Knutsen company tableware found in abundance.

The wreck is located at 57 23.596N 01 41.608W rising 11 metres off the seabed in a depth of 68 metres. She is upright and intact lying 125/305 degrees and stern to the north-west, with visible collision damage to the port quarter. The stern is located at 57 23.606N 01 41.635W and bows are at 57 23.565N 01 41.529W.

---
Diving the Sofie Bakke

The Sofie Bakke is an interesting dive, and in great vis, truly fantastic - as her impressive scale can be appreciated more. Her stern section is intact but vertical with her props and rudder pointing to the surface, the decking and framing here is largely intact and it is possible to enter some of the aft cabins, there is an impressive toilet and bath here with black and white floor tiles still in place. Dropping down the stern to it's base we come to the collapsed remains of the first hold. There is a mess of plates and beams, her hull has fallen out onto the seabed and this area is only 1m or 2m high. Moving forward she rises up a few meters and we come to the remains of the superstructure, this area again is largely collapsed down but is strewn with crockery and other interesting artefacts. Beyond this is her massive diesel engine. This is a fairly unique feature in Buchan wrecks, as almost all have triple expansion steam engines - a diesel engine is rare and this one is massive, it's the size of a small house - a great oblong shape about 4m by 4m by 6m, All the decking has collapsed away from her so the view of the engine is generally unobstructed and it's worth spending a good proportion of the dive time investigating the pipework, valves and gauges. Really interesting.

Forward of this are a couple of intact deck cabins and some huge winches. Her masts have fallen midships, lying across her now collapsed forward holds, their shape is easily discernible but they are collapsed down towards the seabed, around 4m high in places. We have only ventured as far as her bow once - it's a very long swim/Zepp but it is intact and upright, listing slightly to starboard and really impressive.

Overall, a great wreck to explore. We have dived her only about six times and given her size, there is much more of her to explore.
---
---
diver on the Sophie Bakke - August 2013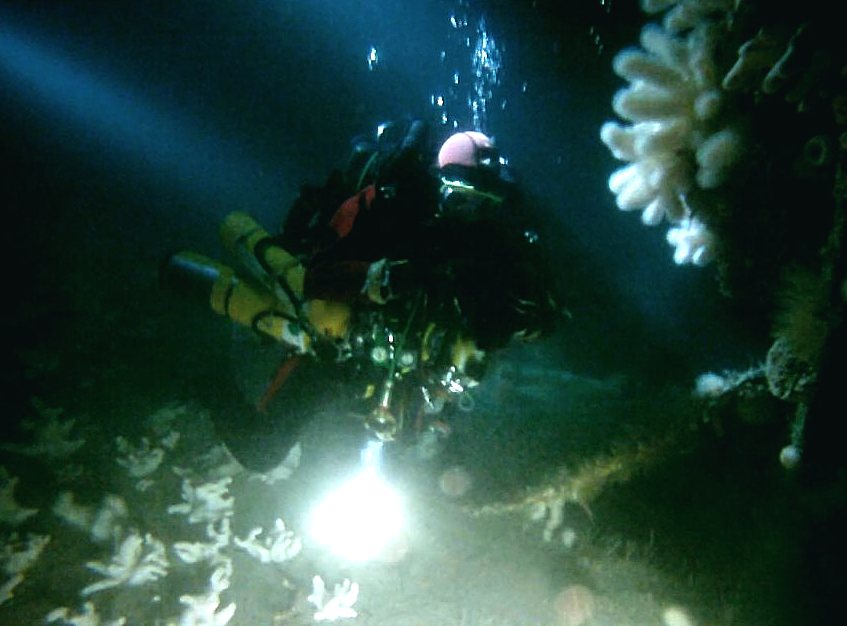 ---
sidescan sonar image, bows at the left

---
echo sounder map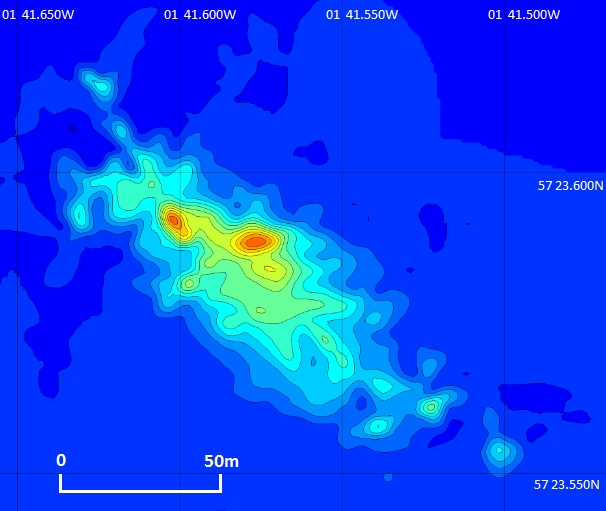 ---
3D echo sounder map