ST FERGUS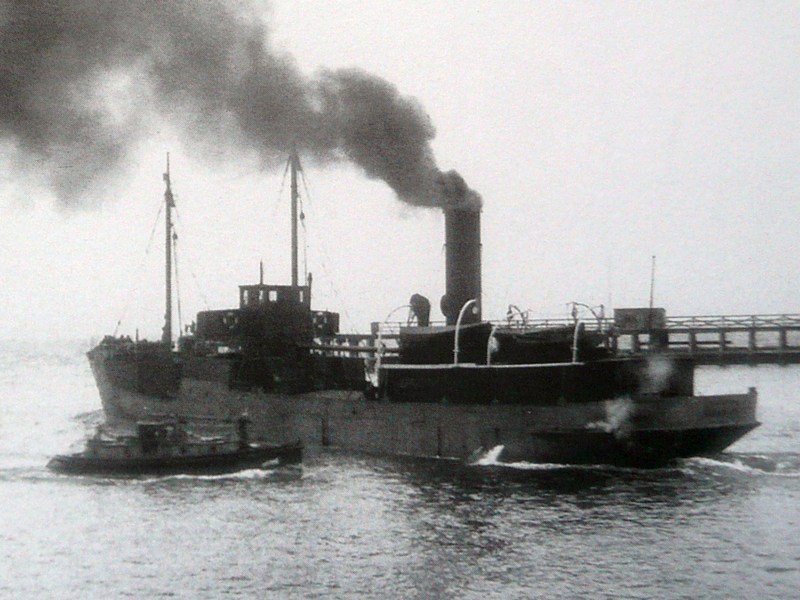 31 December 1940 57 17.242N 01 50.927W 57 in 63 metres
---
Built: 1913 by Hawthorns & Co Ltd, Leith
Construction: steel, 390 grt, length 150 ft (45.7m), beam 24.1 ft (7.3m), draught 10 ft (3m)
Propulsion: triple expansion 58 NHP, one boiler, 3 furnaces, machinery aft by Hawthorns & Co Ltd, Leith
Registered: Aberdeen, UK

Built for the North of Scotland & Orkney & Shetland Steam Navigation Co Ltd.

At 10:40 pm on the 31st December 1940 whilst en-route from Aberdeen to Stromness with general cargo, the St Fergus collided with the Glasgow steamer Fidra and foundered. The fate of the crew is unknown.

We found the wreck by echo-sounder in June 2007 whilst searching an area around local fishermen's Decca coordinates for the '33-Fathom' wreck and dived it on the 23rd August later that year. Although it has a timber cargo, of what appear to be telegraph poles, there are also steel pipes in the hold so it became known as 'the Pipe Wreck' as we were unsure of its identity, thinking it could possibly be the St Clement.

There are two almost-identical wrecks here within half a mile of each other. Through a process of examining all losses of similar type ships off the North-East of Scotland we have come to the conclusion that they can only be the St Clement and the St Fergus, despite the fact that the vague reported loss position for the St Fergus was 'off Rattray Head'. The location however does approximate to the reported loss of the St Clement. As the St Clement better fits the other wreck, by simple elimination this one becomes the St Fergus. However we may be wrong!

The St Fergus lies in a depth of 63 metres, five miles ESE of the mouth of the river Ythan at 57 17.242N 01 50.927W orientated 010/190 degrees with bow north and stern south. She is upright and intact but the superstructure has now collapsed.

---