ST MAGNUS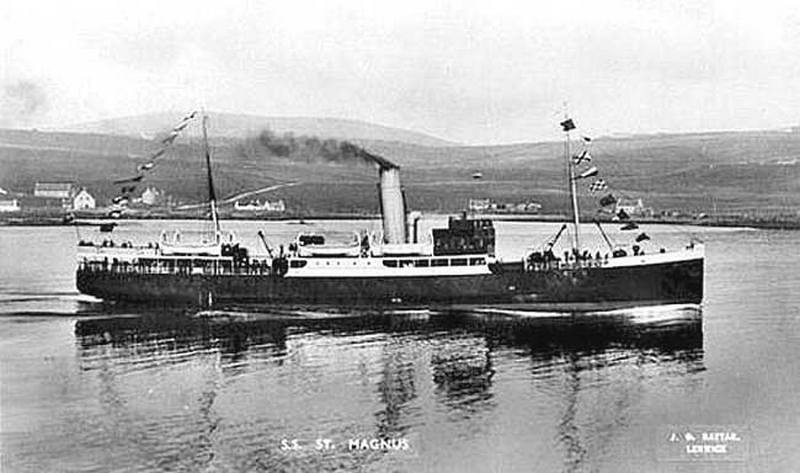 12 February 1918 57 32.267N 01 43.695W 42 in 49 metres
---
Built: 1912 by Ramage & Ferguson, Leith
Construction: steel 809 grt, length 215.1 ft (65.6m), beam 31.1 ft (9.5m), draught 15.3 ft (4.6m)
Propulsion: triple expansion 206 NHP, 2 boilers
Registered: Aberdeen, UK

Built for the North of Scotland & Orkney & Shetland Steam Navigation Co Ltd.

With Captain W. Leask in command, the St Magnus had sailed from Lerwick for Aberdeen and was just passing Peterhead when she was torpedoed by UC-58 (Kurt Schwarz) at 00:15 on the 12th February 1918. The torpedo exploded amidships on the port side killing four passengers and one of the crew, the remaining 26 passengers and 28 crew abandoned in two of the ship's boats and watched the St Magnus sink at 00:22. The survivors were picked up by naval vessels and landed at Aberdeen.

We found the St Magnus 2.5 miles north-east of Peterhead in September 1999 - she is only 600 metres away from the wreck of the Muriel. We dived the wreck in October 1999 and discovered plates with the company crest which confirmed her identity.

The St Magnus lies in a depth of 49 metres at 57 32.267N 01 43.695W orientated 135/315 degrees with the bow to the south-east. She is upright with a slight list to starboard, much of the starboard side has collapsed but the port side is intact. the highest point rises 6 metres from the seabed, this is the midships superstructue, but the wooden wheelhouse and decking has long gone.
---
---
echo-sounder chart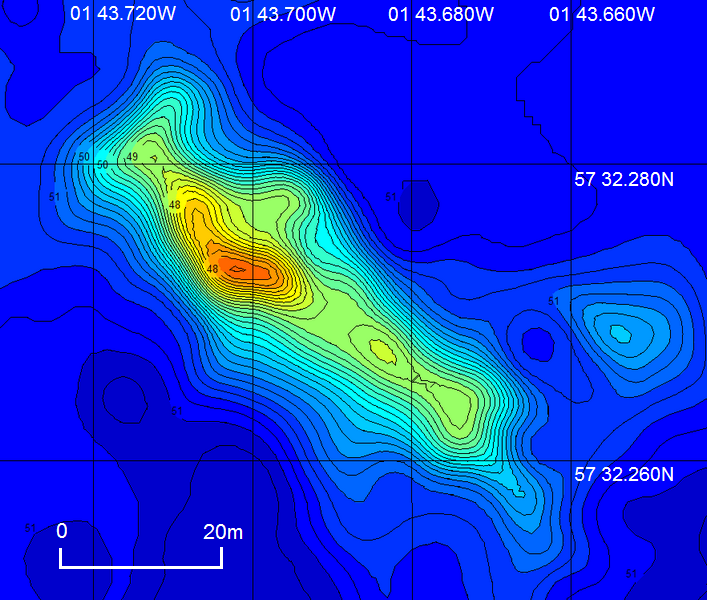 ---
3D echosounder image