SUBWORKER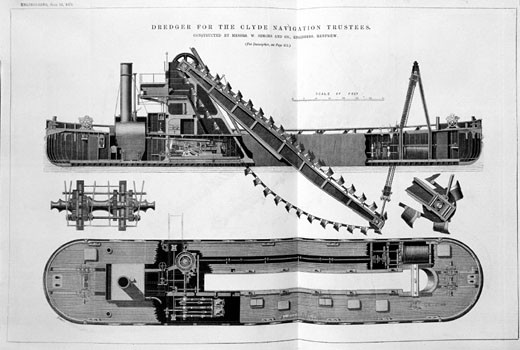 26 March 1913 57 46.040N 01 24.770W 76 in 83 metres
---
Built: 1910 by Wilton's Eng & Slipway Co, Rotterdam
Construction: steel, 338 grt dumb bucket dredger, length 141 ft (43m), beam 28 ft (8.5m), draught 10.4 ft (3.2m)
Propulsion: none
Registered: London, UK

Owned by C.H. Campbell and captained by G.J. Hoadley, with a crew of six, the Subworker was under tow from the Clyde to Aberdeen when the tow parted and she foundered in heavy seas 16 miles off Rattray Head.
---
Paul Haynes report on our dive on the Subworker 31 July 2012

At 6am we departed aboard Buchan Elle, having a large choice of new marks to dive as a result of a recent hydrographic survey of the area, with a number of missing U boats from both world wars still to be accounted for, we opted to run 20 odd miles out to what the survey described as a U boat like sonar image suggesting a submarine lying on its side (narrow hull with midsection structure). We quickly made it to site and picked up a large return from the sonar. After assessing that the tidal rate was sufficiently reduced, the shot was deployed. With glorious early morning weather, flat calm seas, blue sky and a large pod of dolphins providing our very own Sea World show, it promised to be a good day. We briefed the dive plan as we waited for slack water and then kitted up. Besides our personal open circuit bailout and decompression gas cylinders, we each carried an additional 12lt cylinder to secure to the lazy shot on the descent (80% at 9m, 50% at 15m and a normoxic trimix at 50m). In addition Jim and Mike took the lazy shot in, secured it to the main shot line and deployed it prior to descent.

We descended as a group down a near vertical shot-line in zero tide, which took us directly to the seabed mid-ships next to the wreck. Initial impression was smooth hull in good condition with little or no superstructure apparent. Was this a U Boat? Turning left we followed the smooth hull along to the end where upon it became apparent this was no submarine, but what was she? A very unusual hull shape offered no clue until we swam forward on the opposite side where in 15m visibility, a large chain of buckets still secured to a midship support leg/gear mechanism indicated she was a dredger. But what was a dredger doing all this way offshore in 86m? Remaining close together we swam aft past an engine / power plant room to the bow before turning to the shot. Head count and life support checks conducted we began the ascent breaking surface some 100mins later. Water 11C so the decompression was comfortable and another great dive.
---